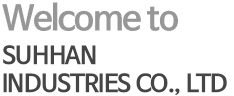 More Clean, More Tolerant, More Long-life
Since the founding in 1971, Suhhan Industries Co., Ltd. has supplied various products including air, oil, fuel filter for various automobiles and heavy equipment to various air conditioner filter, and it is highly evaluated for its quality and technology. However, Suhhan Industries Co., Ltd. is not satisfied with this and we will do our best to develop and supply better quality filter based on our accumulated experience and technology for our customers as well as always friendly and A / S.
We would like to express our sincere gratitude to all of you for your encouragement and cooperation for the development of today's Suhhan Industry. Suhhan Industries Co., Ltd. will continue to make every effort to supplement and research.
Thank you.
Suhhan Industries Co., Ltd. CEO Kang yoon sik